Treated Wood - a new place for courses
2021-07-05 | CampusVital offers relaxation in the covered wooden pavilion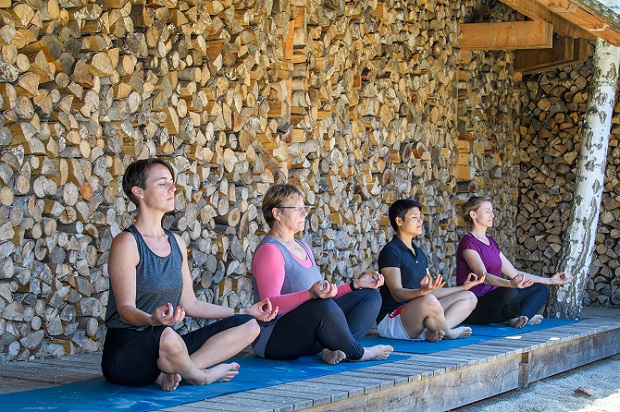 Photo: Peter Himsel/Campus Berlin-Buch GmbH
The wood work of art "Treated Wood" has a pleasant, calm atmosphere. Inside, it is somewhat reminiscent of a Japanese Zen temple. CampusVital has recently started offering outdoor courses here. "The place is open and at the same time sheltered, an ideal place to relax and exercise outside," says health manager Eileen Bauer. "Participants feel very comfortable here, and the roofing provides enough protection from the sun or light rain."
The wooden walkways and the gravel bed are well suited for the courses offered: Foot Gymnastics, Yoga for the Fascia and Circuit Training. All offers can already be booked in the CampusVital booking calendar.
Treated Wood is mainly reserved for CampusVital courses. During free periods, however, it is possible to book the wooden pavilion for seminars or meetings. The booking calendar also provides access here. "We are pleased to be able to use Treated Wood as a place for sports and meetings on campus," says Dr Ulrich Scheller, Managing Director of Campus Berlin-Buch GmbH. "We have also introduced clear rules for use and cleanliness to ensure that the pavilion remains in a well-maintained and safe condition as an art object and meeting place.
And there are even more outdoor offers from CampusVital: if you want to keep fit with a round of table tennis at lunchtime, you can always find a trainer from CampusVital at the table tennis tables between the Mensa and the Life Science Learning Lab on Fridays between 12.30 and 1.30 pm. More about the Ping-Pong break: https://www.campusvital.de/de/news/mittagspause_tischtennis.

Click here to book courses in "Treated Wood" and the pavilion itself.